Youth Quake—CHICAGO! Open to 6th-12th grade
When: March 15-17, 2019
Where: The Hyatt Regency in Schaumberg, Chicagoland
What: A weekend filled with music, speakers, workshops and FUN!
Deadline: Early bird deadline is January 10th. Firm deadline is January 15th! THERE IS A DISCOUNT if you register by January 10th! Cost: $182 (includes all meals and hotel room), Deposit of $80 due with registration
Questions? Contact Michelle McClanahan,

michelle@trinitypelllake.com
Gabe Kasper is the main speaker for the event! Gabe Kasper is the Pastor at University Lutheran Chapel on the campus of the University of Michigan. His passion for preaching and teaching have led him to speak at camps, churches, youth events, schools, universities, and yes, even a haunted house convention. In his spare time, Gabe enjoys playing soccer, reading books, listening to punk rock, and cheering on his beloved Green Bay Packers. He and his wonderful wife Melissa have two great kids.
ECHELON —-the band for the weekend Echelon is a ministry organization that seeks to spread the Gospel of Christ through music and relational ministry. Lloyd Garrelts, Lowell Michelson, Todd Miller and John Simshauser have been involved in Christian music ministry for over ten years and have performed hundreds of concerts throughout the United States. They looking forward to getting to know you!
Friday:
5:30-7:30 PM – Registration
Opening Celebration begins at 8:00 PM
Group Mixers
Adult Leader Meeting
Campfire
Family Time
Celebrations – Large group gatherings with multi-media, scripture, prayer, message, and music
Campfire – End of the day large group worship
Saturday:
Morning and Evening Celebrations
Workshop Registration
Workshops
Variety Show
Late Night Activities
Campfire
Family Time
Late Night Activities – Fellowship activities that may include a dance, praise and worship, high and low energy games, prayer room, etc.
Sunday:
Family Time
Closing Celebration ends at 11:00 AM

Family Time – Devotion/discussion time within youth groups


February 22-24, 2019 Grades 3-6th Registration Closed
We are excited to announce our Winter Camp theme 2019……Expedition!
Inspired by Matthew 28:19-20(NIV)
"Therefore go and make disciples of all nations, baptizing them in the name of the Father and of the Son and of the Holy Spirit, and teaching them to obey everything I have commanded you. And surely I am with you always, to the very end of the age."
Expeditions are awesome!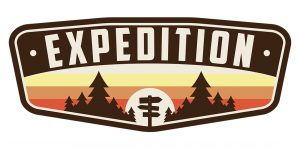 There is adventure, and risk, and challenge. Expeditions require a bunch of different people to do a bunch of different jobs, all to accomplish a common purpose.
And this is what Jesus invites us into. This is what Jesus invites you into.
Are you in?